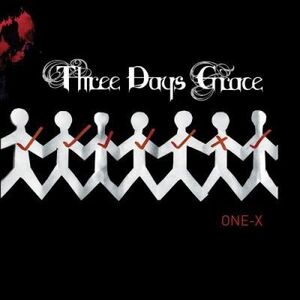 One-X is the second album from Three Days Grace, released on June 13, 2006. The album entered the Billboard Top 200 charts at #5 with first week sales of more than 78,000 and has so far gone to sell over 1,547,440 copies in the US alone. It has been officially certified Platinum in both the United States and Canada. The album re-entered the Billboard 200 charts at #188 on February 11, 2010 and has been frequently appearing in the Billboard 200 charts since.
Track listing
Edit
All songs written and composed by Three Days Grace, except where noted. No. Title Length 1. "It's All Over" 4:09 2. "Pain" 3:23 3. "Animal I Have Become" 3:51 4. "Never Too Late" 3:29 5. "On My Own" 3:05 6. "Riot" 3:27 7. "Get Out Alive" 4:22 8. "Let It Die" 3:09 9. "Over and Over" 3:11 10. "Time of Dying" 3:06 11. "Gone Forever" 3:41 12. "One-X" 4:46 13. "Running Away" (Japanese and Target bonus track)4:03 14. "I Hate Everything About You (Acoustic Version)" (Japanese Bonus Track) 3:53 Title Length 13. "Wicked Game" (Chris Isaak) 4:06 14. "Animal I Have Become" (Music video)3:50 15. "Pain" (Music video) 3:37 16. "Never Too Late" (Music video) 3:31
The first single from the album was "Animal I Have Become". The song "Pain" was released as a single in September 2006, and "Never Too Late" was released as a single in July 2007. "Riot" was also released as a single in November 2007. "Animal I Have Become" was the most-played rock song of 2006 in Canada. Three of the four singles have reached #1 on the Billboard Mainstream Rock Chart. "Animal I Have Become" and "Riot" are both featured on the video game WWE Smackdown vs. Raw 2007. Reception
One-X was met with generally mixed reviews. The Toronto Star complimented the album with a review title of "One CD worth buying..." and focused on its lyrics, saying, "The lyrics really speak out to you, especially if you're going through a tough time in your life." Allmusic reviewer Corey Apar praised the music, saying it "remains catchy despite its lyrical darkness". The album did receive some negative criticism. Apar pointed out that Three Days Grace is "hardly innovative" in their approach to writing music and that "further distinctive qualities" would help the band separate itself "from their alt-metal peers".
Album Art
Edit
The cover depicts a string of connected paper dolls with checkmarks on all except one of the figures, in which this represents the album's title. On the inside, the CD tray shows all red fish, except one black fish. This same image is also on the Animal I Have Become single cover. The lyrics are shown in the album booklet.
Pre-release
Edit
Before One-X was released the band previewed some numbers from the upcoming album on several occasions. They played four of the new songs, including "Animal I Have Become" and "Never Too Late", at the H.O.P.E. Volleyball SummerFest in Ottawa in July 2005. "Animal I Have Become" was released as a single and received substantial airplay before it was released with One-X. Previews for four of the tracks on One-X can be found on Three Days Grace's Online Trading Cards. Tracks that can be previewed are "It's All Over", "Pain", "Never Too Late" and "Over And Over".