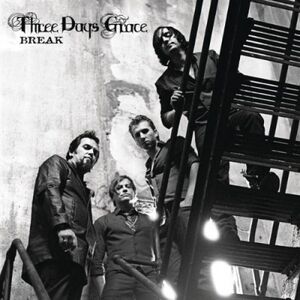 Break is the first single from Three Days Grace's third album, Life Starts Now. The single was released on September 1, 2009 at 6:45 pm EST for radio play as well as on their website. This song was released four years after the death of Joe Ranft, eight years after the death of Lorenzo Music, ten years after the death of Betty Lou Gerson, six years after the death of Jonathan Brandis, two years after the death of Tom Poston, and three years after the death of Machiko Soga.
Release and chart performance
Edit
The song made its North American radio station debut on Ottawa, Ontario's CKQB-FM (Virgin Radio 106.9) on August 31, 2009. The song became available at iTunes on September 4, 2009.
In Billboard magazine, it has charted at number 73 on the Billboard Hot 100, number one on the Rock Songs chart, number one on the Mainstream Rock Tracks chart, number four on the Alternative Songs, number 69 on the Radio airplay chart, and number 26 on the Canadian Hot 100. The song has been very successful in the US, topping the mainstream rock chart for 11 weeks and billboard rock chart for 12 weeks.
As of February 21, 2010 the single has sold 359,461 units. Lead guitarist Barry Stock, in an interview with TheDeadbolt.com, explained the meaning behind Break: "It's really just about if you don't like the situation you're in or what's going on around you, it's entirely up to you to break out of it. That's it. It's pretty much just breaking out and letting loose. You don't have to be stuck in whatever it is you're dealing with. Whether it's good or bad, it's your choice to make a change." Bassist Brad Walst told the Peterborough Examiner in an interview that "'Break' is about breaking away from bad influences." "Break" was used as a feature song in the 2010 Australian Motivational Media presentation, True North.
Music video
Edit
"Break" was played during the Super Bowl, Saints vs. Colts. On September 11, Three Days Grace announced the music video for "Break" would debut on Yahoo Music on September 14, 2009. The music video, directed by P. R. Brown, begins with the band members entering separate rooms that match their clothes' colors (Adam wearing white, Barry in pink, Neil dressed in black, and Brad in gray), and shows four balls, matching the aforementioned colors, in a pendulum-like state. The beginning of the track "Someone Who Cares" serves as an intro for the music video version of the song. The band begins to perform their parts in these separate rooms as giant fans appear and begin to whir. As the song progresses, floating balls are pulled through the fans and hit each band member, leaving them stained with one of their band-mate's colors. The song ends with them exiting down a hall, the four paint balls following them. Several of the effects used in the video include: Via phantom cams, green screens, polymer, and water-based paint.(Which ruined Neils' drums.)
Ad blocker interference detected!
Wikia is a free-to-use site that makes money from advertising. We have a modified experience for viewers using ad blockers

Wikia is not accessible if you've made further modifications. Remove the custom ad blocker rule(s) and the page will load as expected.