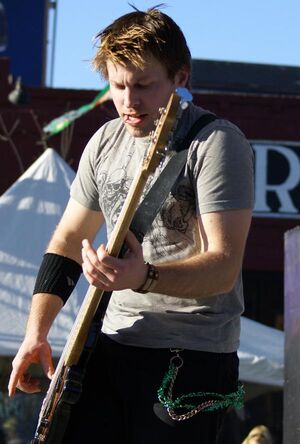 Brad Walst is the bassist, backing vocalist, and co-founder of the Canadian rock band Three Days Grace. Brad and his wife Rhonda have a son named James. Walst's brother, Matt, is currently the lead vocalist of Three Days Grace, after,sadly, Adam Gontier left, due to certain reasons. Brad uses Ernie Ball basses, Ampeg Amps, Ampeg Cabinets, Boss Pedals, Sans Amp Pedals. He lists his influences as his parents.
Biography
Edit
Brad Walst was born in Norwood, Ontario on February 17, 1977. Walst took up the bass at the age of thirteen. He had an avid interest in music while he was in school. Three Days Grace's former singer, Adam Gontier, suggested he learn bass, so they could form a band.
Ad blocker interference detected!
Wikia is a free-to-use site that makes money from advertising. We have a modified experience for viewers using ad blockers

Wikia is not accessible if you've made further modifications. Remove the custom ad blocker rule(s) and the page will load as expected.