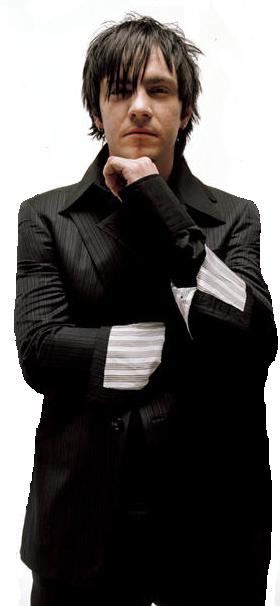 Adam Wade Gontier (born May 25, 1978) in Peterborough, Ontario, Canada, was the lead singer, rhythm guitarist, and main songwriter of Three Days Grace. Adam's voice ranges from high tenor to medium low bass. Formerly worked as lead singer of Groundswell, renamed to Three Days Grace.He left Three Days Grace on January 9, 2013, at the present time he is the lead singer for the rock supergroup Saint Asonia. The cover of the album One-X includes a quote by Adam that states: I'm on the edge and falling off/and I'm sick of feeling numb/Help me believe it's not the real me/Maybe we can turn it around/Cause it's not too late/I'm standing here alone/feeling so stepped on/It wont be long until I'm burning on the inside/I just don't care anymore/That it drags me down/Things are clear/I will not die/We are one. The quote contains lyrics from songs off the band's second album, One-X. In 2005, Adam went into rehabilitation for an addiction to OxyContin at the Toronto rehab center CAMH (Centre for Addiction and Mental Health), which is where many of the songs for One-X were written, including "Pain", "Animal I Have Become", "Over and Over" and "Gone Forever". He is still sober, and a docu-drama about his addiction, named "Behind the Pain", was released in 2007. It was recently announced by singer Chris Daughtry at a concert that Adam had co-written a song with him. Also, Gontier is a contributing artist on the track "I Don't Care" on Finnish cello-metal band Apocalyptica's 2007 album Worlds Collide. In early 2009, Gontier was said to have co-written a song with Chris Daughtry that would appear on Daughtry's new album Leave This Town. When the album was completed, it was revealed that Adam's song wouldn't be in it. Instead, it was released as a b-side of Daughtry's new single, "No Surprise", and in United Kingdom iTunes Stores. The song is called "Back Again". Three Days Grace released their 3rd album entitled Life Starts Now on September 22, 2009. Since then, they have released four singles entitled "Break", "The Good Life", "World So Cold" and "Lost in You". In 2012, Transit of Venus, the band's fourth studio album, was released. The album released two singles, "Chalk Outline" and "The High Road". In January 2013, Adam Gontier left Three Days Grace citing health issues.
Biography

Edit
Gontier has a large selection of tattoos. On his right forearm he has a solid black band and lyrics to his bands' song "Never Too Late" from the album One-X, and on his left arm he has a tattoo with special words made out to his grandmother. He also has 2 tattoos on his chest. He has the word "grace" tattooed on his knuckles on his right hand using the font from Jeff Buckley's Grace. In 2007 he had a tribal tattoo added to his right upper arm.  His cousin, Cale Gontier, is the bassist for the Canadian bands Thornley and Art of Dying. Gontier has no biological children of his own currently. He stated in a biography video in 2009 that he and his wife plan on having children "in the near future", possibly in late 2010 or 2011. He has one goddaughter named Roo. He uses Schecter Guitars, Paul Reed Smith Guitars, Gibson Guitars, Guild Acoustic Guitars, and Brewer Guitar Co. Acoustic Guitars. Gontier has 2 younger siblings, Katelynn and Christian." Gontier has mentioned that influences include Kyuss, Nine Inch Nails, Tool, Black Sabbath, The Beatles, Sunny Day Real Estate, Jeff Buckley, Pearl Jam, Alice in Chains, Nirvana, Soundgarden, Dinosaur Jr and his mother.
Ad blocker interference detected!
Wikia is a free-to-use site that makes money from advertising. We have a modified experience for viewers using ad blockers

Wikia is not accessible if you've made further modifications. Remove the custom ad blocker rule(s) and the page will load as expected.